A new interface built for the net that is designed to help people think and collaborate
Augmenting Human Intellect

The pioneers of human-computer interface technology were united by a shared goal of helping people manage the complexity of working with large amounts of information so we can think more clearly, communicate more broadly, and work more effectively.


Why a new interface?


We are dealing with a world characterized by an unprecedented level of complexity, brought about by information technology, network dynamics, and computational power.

I want to think more clearly, work more efficiently, and help other people do the same.

I want to organically grow epistemological gardens and working environments. I want to be able to move freely between them. I want to reference information from other projects not to get in the way of what I am currently focused on.

There has hardly been any innovation in the general purpose interface space in the past thirty five years. Having developed a theory of why it hasn't happened, and designed what I believe is an innovative and practical general purpose interface, I want to find out if innovation is still possible.





What kind of new interface?


A general purpose interface designed for a connected world in which computers play a vital role in all aspects of life. It enables people to organically create spaces for working, learning, and collaborating. The whole interface is designed for the way we use computers today.





Similar Efforts


Notion

Mac OS

Are.na

Urbit

Chrome OS




Calm and Peaceful


In a world of information competing for attention, a new general purpose interface should encourage peaceful, calm, goal oriented interaction.
Collaborative


Communication and collaboration are key to how computers are used today - this should be enabled and celebrated system wide.
Net-First


The internet is integral to computing today. It should be treated as such by the operating system.




For Learning and Making

Like the innovative interfaces of the past, a new interface should emphasize augmenting human intellect, and enabling people to build things together.
Do everything you do on an old computer, but with more space

Eliminate clutter and too many overlapping windows with an interactive scrolling desktop.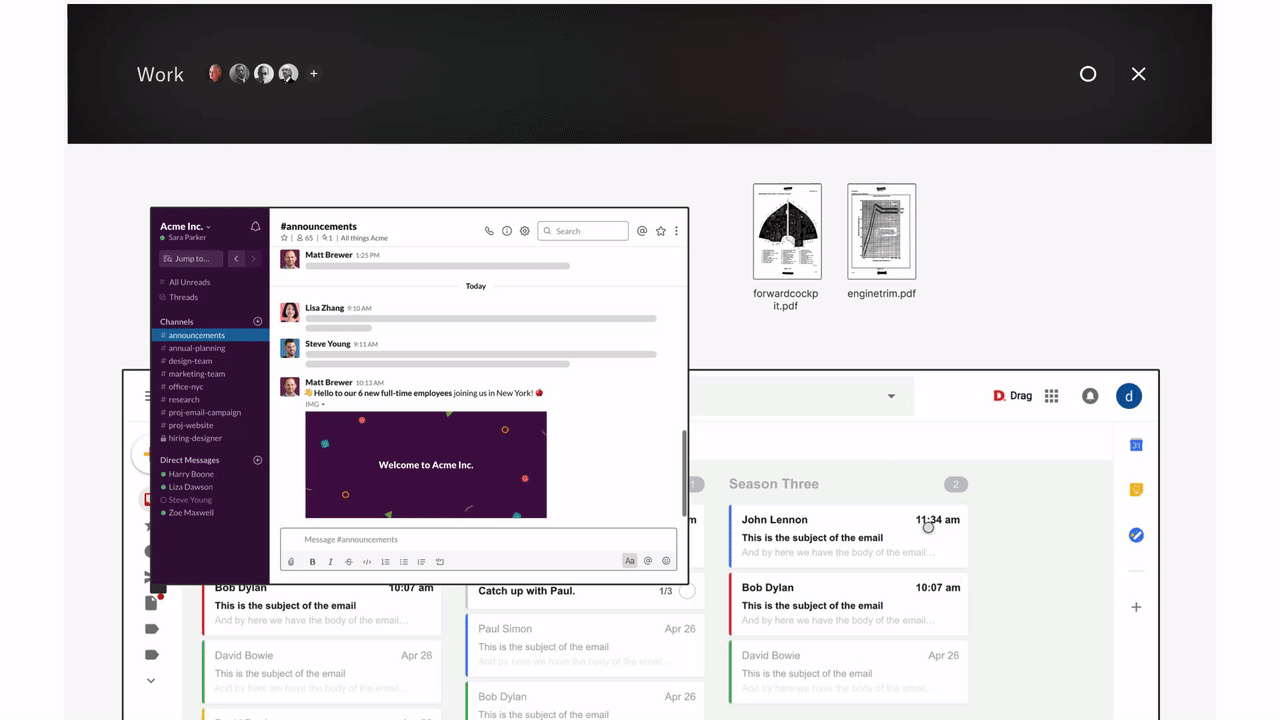 Grow information spaces about the things that matter to you

Effortlessly generate multiplatform information environments for everything in your digital life. Work on a major project, manage your finances, plan a trip. Do everything you want to do without losing anything.
Share multiplatform computing environments with other people

Sharing doesn't need to always be limited to individual software programs. Share your work across platforms with friends, family, and coworkers, or publish it on the web to share with the world.
Access everything from any screen with an internet connection

New interface is built on and for the internet. It's designed to be your primary computing environment. But it doesn't need to be tethered in any way to a particular device.