A financial reporting, planning, and analysis tool for modern teams


Excel and Google Sheets are amazing tools that have been the backbone of finance teams for decades. And they're starting to show their age. Smaller finance teams in particular are increasingly held back by a lack of collaboration, cloud integrations, and other issues associated with 90s software. Pectus is building a solution for them.

I led the design team at Pectus, where I was responsible for the overall Product Design vision, hiring and mentoring a design team, and additional marketing materials like the website, customer outreach, and internal communciation.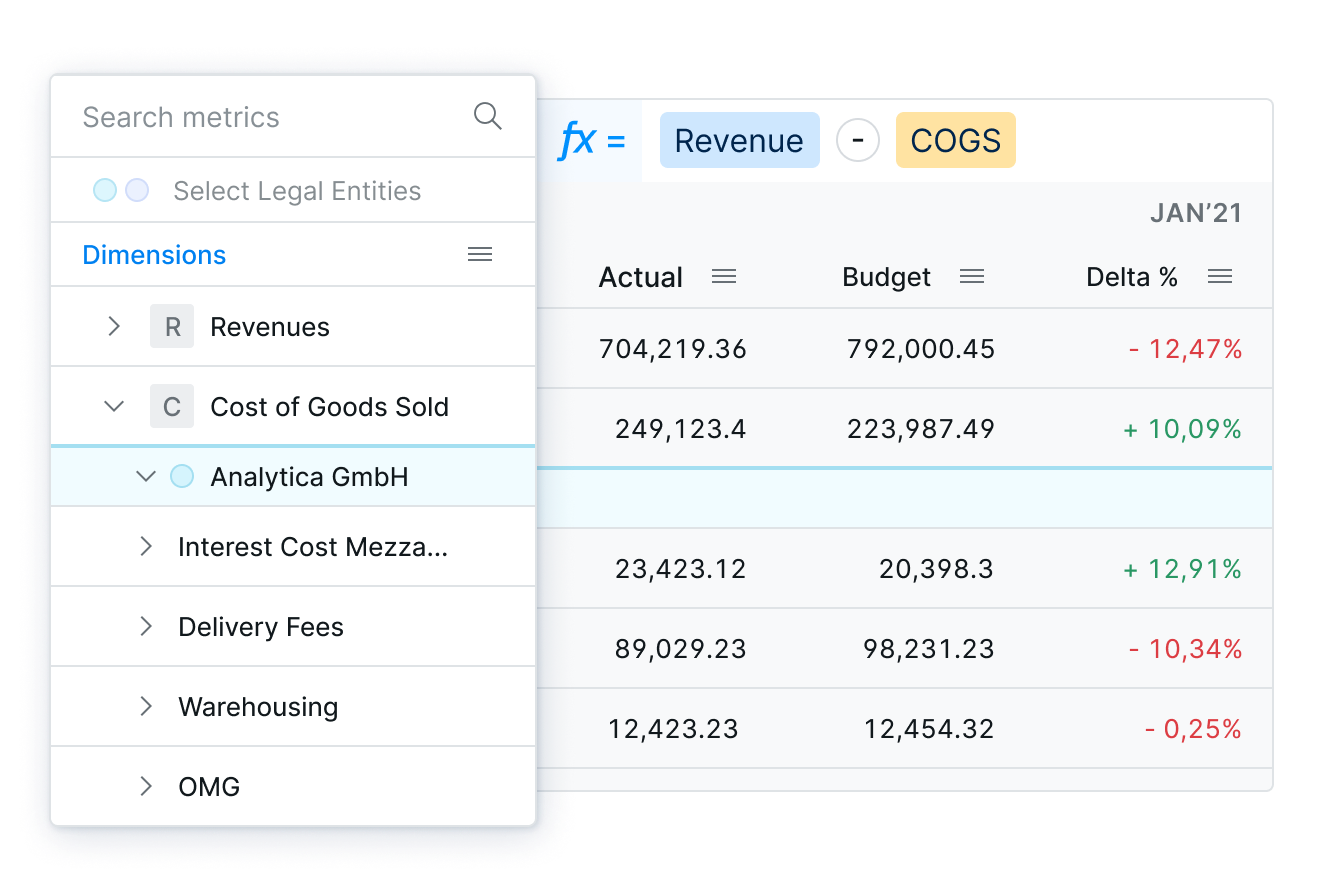 My Role


Design Lead
Summer -> Winter 2022


.

.
Design Culture Building
Problem Framing
Hiring & Mentoring
Wireframes
Research
User Testing
UX flows
Design System




I initially joined Pectus because I was excited about leading an early-stage design team. I felt the process of building a great design team and culture from the ground up would be a great learning opportunity, enabling some really great work if things turn out well.

When I joined Pectus, the company had about eight months of solid development work towards an application, which was getting close to a beta release date. The team had some support from a series of freelance designers, but a clear design perspective was evidently missing. I did an initial review of the app and identified a few issues to explore:

1. Really complicated information architecture. It lacks a clear notion of a homepage or starting page, and does not tell a story.

2. Rigid financial reporting UX. If a user wanted to present something a little differently than the one option provided by Pectus, we need to hard code that change onto their instance.

3. Inconsistent UI patterns. Some individual pages looked good on their own, but navigating between pages revealed many inconsistencies and very limited a11y consideration.

Aligning as a team around the struggles and goals of our users

Persona Development & Storytelling

Good design is collaborative and cross-disciplinary, so we focused from the beginning on involving the whole team in understanding, advocating on behalf of, and building for our primary users.

To do this, we used historical characters to tell compelling stories about the different kinds of people involved in financial planning and the management of companies in our target market. The stories and characters served several goals:
Interesting stories are memorable and captivate the attention of the whole team
Our choice of certain historical characters subtly reinforces our team values and culture
Now that we're focused on building an MVP, the most important thing is to focus on basic details of the story, and make sure we get those really right
This is a rough, whimsical manner of using personas, which suited our basic needs and margin of confidence in our assumptions at the time. I participated in the planning process of a wider strategic research effort to develop more refined personas for later product development.
Helping users create a model of what Pectus is for and how it works


Information Architecture



Based on early product audits, existing beta architecture, and card sorting activities with users, I facilitated the definition of a radically simplified information architecture for Pectus.



Crafting a thoughtful, attractive UI


Design System



There's a lot to think about when you're designing, implementing, and shipping enterprise software. It can get complicated. It's so important to be thoughtful in advance about the millions of tiny decisions that go into crafting a product's UI. Otherwise, you will have to make those decisions over and over again. Not only does this take a lot of time, it creates inconsistencies in the app and frustrations for both designers and engineers.
In a series of initial conversations about what kind of vibe Pectus should create, we decided that our customers would most appreciate a very simple and functional, but modern UI concept. Based on this goal, we made some initial basic decisions regarding color, typography, spacing, and composition.
Collaborating closely with engineers, and taking these rules as a starting point, we were able to quickly specify and implement a consistent look and feel throughout the application. This also enabled us to design and ship at a higher velocity than we could have done otherwise.