Bringing clarity and efficiency to decision making processes

Greenlight is a financial decision making product designed for family offices, part of a life management platform being built by Way2B1. The platform includes two other products: Source is an information repository and Fixit is an app for maintenance and other tasks.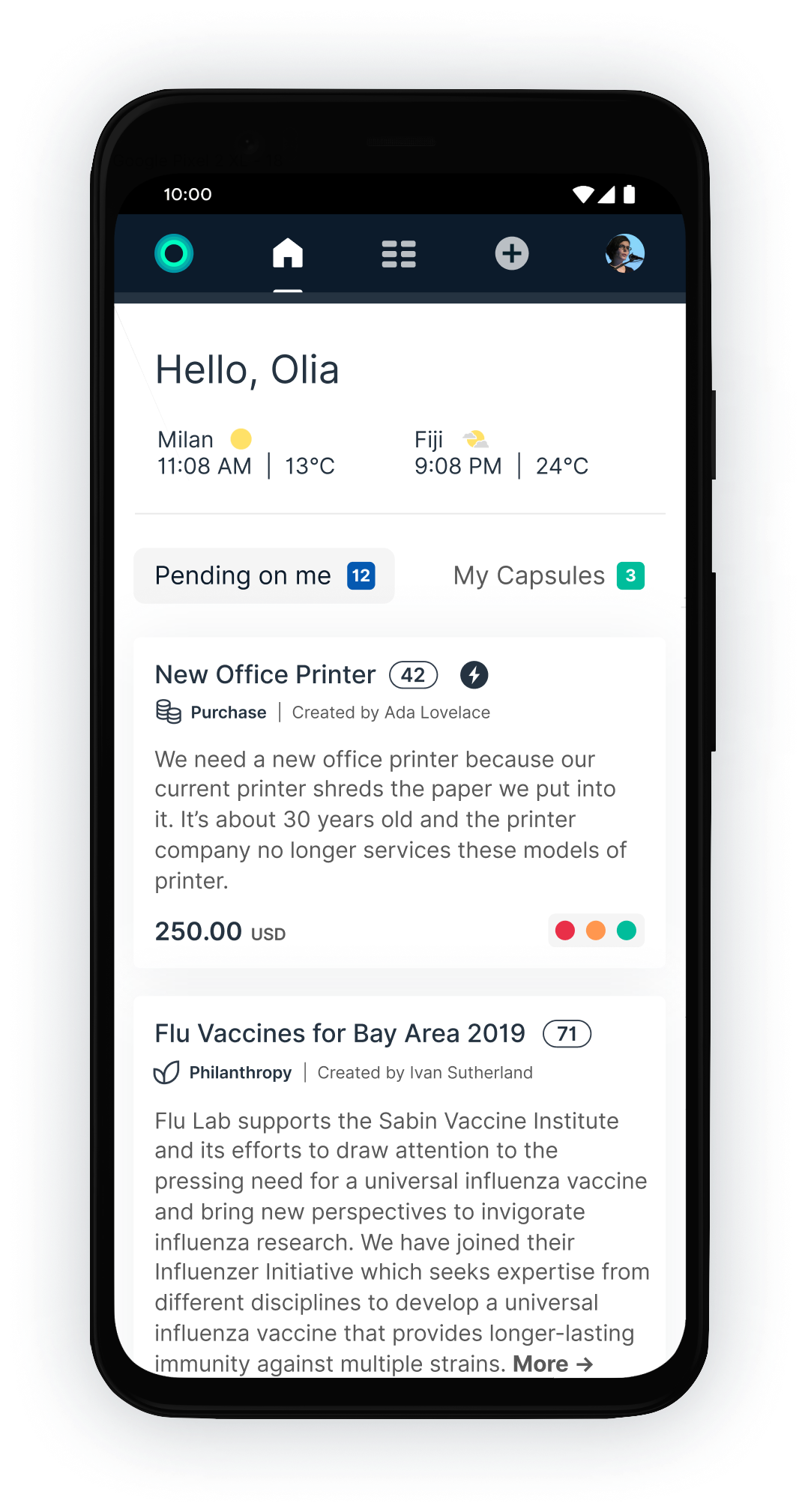 My Role


Product Designer
Spring 2018 -> Fall 2019


.

.
Wireframes
Research
Testing
UX flows
Visual
Responsive layout




I've always been interested in designing software that helps people manage complexity and make better decisions. My thesis project in design school explored this topic. As I was leaving the hall to sleep after my final thesis presentation, a future colleague approached me and sold me on Way2B1's vision for a kind of multigenerational family operating system.

Way2B1's products streamline clerical work like bills and maintenance so that families can spend their time on more important things. Over time, it will grow into a multigenerational repository of knowledge and history, automating tasks and passing down wisdom.

When I started at Way2B1, we had functional beta software. My work involved creating designs that efficiently met immediate development needs within a resource-constrained engineering environment while contributing to a roadmap for the product's future.

What I did

As the lead designer for Greenlight, I worked closely with product stakeholders, our PM, six engineers, the CEO, and with the other teams to advance Greenlight's design in ways that efficiently drove the development of shared components and integration across the platform.
I immediately started working on designing responsive components that would make our interfaces shine on smaller screens and mobile devices.
I also started learning as much as I could about our clients, our products, and our team.
This work helped us discover that it could be helpful to build a modular, cross-platform component system. These simple, loosely coupled parts could be combined in various ways to create powerful, intuitive interfaces for our clients.
To build efficiently and at a high quality, we needed a design system. So I worked with developers to create a simple, robust design system. We standardized form heights, button styles, inclusive patterns, typography, colors, and icons throughout the product. To enhance legibility and give the software a more modern feel, we transitioned the product's typeface from Open Sans to Inter.
With a design and component system in place, Greenlight's focus shifted to using these first simple components to build a major new feature - Greenlight for Investments.
Additionally, I led the design of a new feature that enables people to create custom processes in Greenlight, redesigned settings and permissions, contributed to information architecture adjustments for usability, and contributed to defining accessible, inclusive UX patterns.
I strove to collaborate in such a way that my presence would amplify the work of others around me.